Lala Drona taps into the feminine millennial psyche with your newest painting "Shave." (displayed above)
Following her previous series where she depicted the journey into "the void" she begins to discover the influences that have played a part in the construction of feminine millennial identity. With its black background, one could presume that we have crossed over, and entered the void referenced in the former series. From inside the void, the first image that emerges is one of a face split in half: One side is Lala Drona, sporting her iconic sunglasses, and the other side is that of Britney Spears. The image of Lala was taken from her short video "Jailbird for muse abuse," where the artist's head is shaved before she enters Paris Art Prison after being convicted of Muse Abuse. Juxtaposed is the infamous image of Britney Spears's, taken by the paparazzi when she escaped from her Pop princess keepers, and shaved her own head in 2007.
In an interview with Jay Lewis in Artleads Magazine, Lala Drona explains that she chose to paint a half-Lala, half-Britney painting in so that the images could be revealed with her "Every Woman" mirror box contraption. Once the painting is put on the mirror box, you can see each side of the face reflected, which creates the illusion of complete and separate people (complete Britney, complete Lala). "I chose Britney for this piece after considering the references I had of women shaving their head before I had shaved my head for the first time. I was surprised that although the media presented Britney as hysterical, I remembered this moment as her expressing agency over her own body. I saw strength in the wild look in her eyes. I wanted to be beautiful, strong, free, and wild like that too. Britney inadvertently gave many millennial girls a reference for releasing the wild woman within."
Internet forums have been buzzing about a leaked handwritten statement by Lala Drona recounting the inspiration behind the piece. The text, thought to be a draft of the art statement that accompanies the piece, says that this painting was an introspective look at sensationalized images of women during her formative years:
"In the late 90's and 2000's, the media presented women as objects to be consumed by the male gaze.  We learned that acting unintelligent was attractive, like Paris Hilton in The Simple Life.  We were bombarded with images from "Girls Gone Wild" and "Mardi Gras," and it was custom for neighbourhood boys and male classmates to ask us to flash them as if we were the subjects in these programs.  Mtv's Spring Break, and music videos showed us how we should act if we wanted to be seen and validated by mainstream culture.  The paparazzi preyed on young celebrity girls exiting their cars, in order to snap an upskirt photo and plaster images of their vaginas in gossip magazines.  This is what I saw on a daily basis while waiting in line at the grocery store.  Women were meant to freely offer their body to any man that wanted it, and men were meant to coerce women into giving their bodies by any means… 
(continued…)Of course, this misogynist media circus was a natural evolution from mainstream media of the late 80's and early 90's, but things have become even worse today for young women and girls with social media pressures and mobile photo editing apps. Women should feel free to express their sexual power, but not feel as if it is the only power they have at their disposal. Women are made to feel that their work is never enough, that the work does not stand without an attractive and unthreatening face/body to transport it. Anyone who lives at the mercy of the male gaze is made to feel as if they should hide their image if it is not perfect by societal standards of beauty. This pressure to either "exploit yourself or hide yourself" traps us within the body, with no chance to transcend it, meaning no chance for growth or evolution. My intuition tells me that feminine power lies somewhere outside of our bodies, but it is with our bodies that we can connect to it. It's like another channel we can all tune in to. If we are always made to feel that we are nothing more than our bodies, then we will never transcend those bodies and never tap into that feminine power. We will remain docile, and easily managed. We must find the way to break away from the body as prison; we must stop defining ourselves by the body. We must view it as a tool/vessel that enables us to connect and ascend to our most powerful selves."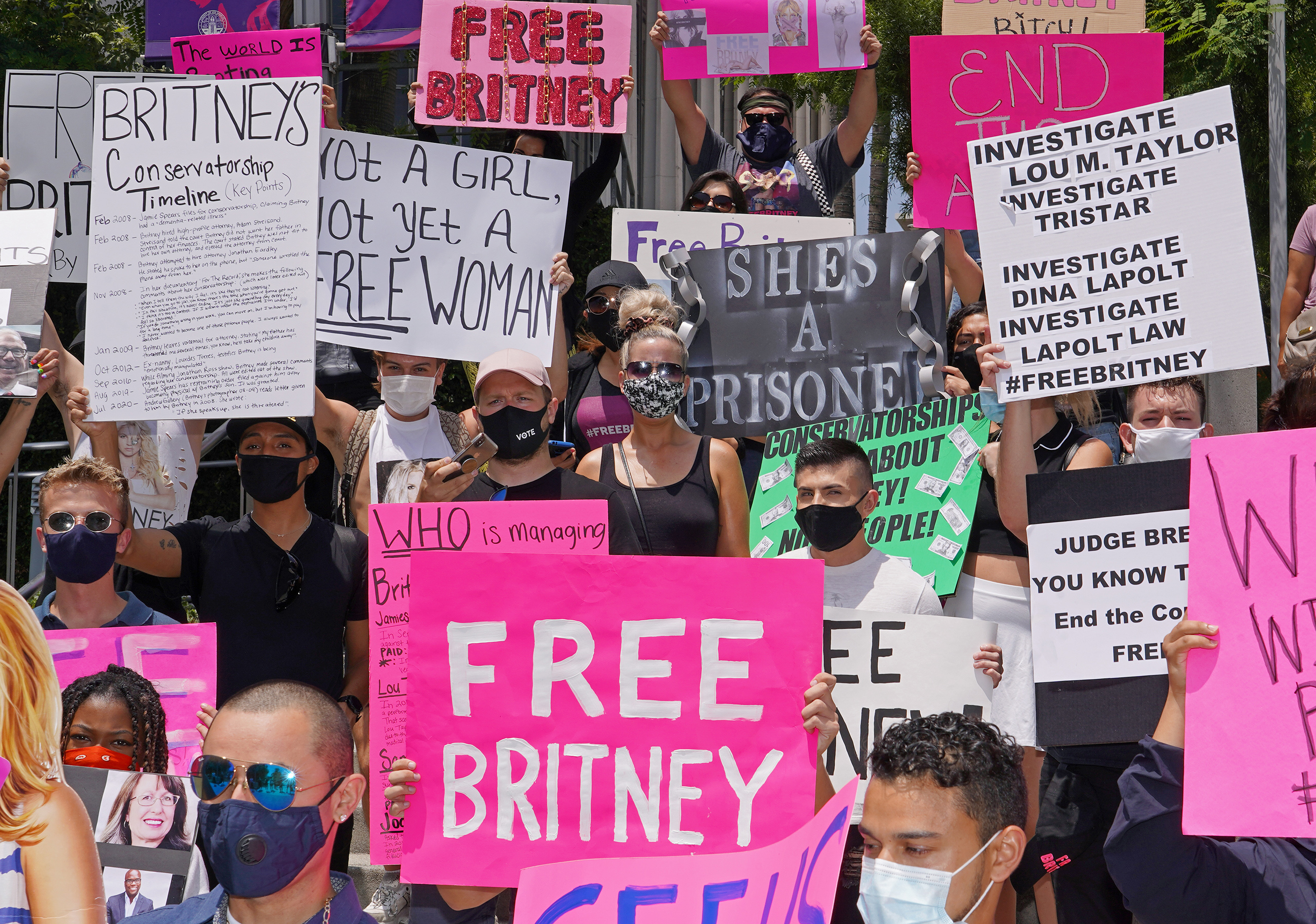 Some critics are saying the Lala Drona's piece is a cheap attempt to jump onto the #freebritney trends regarding Britney Spear's recent conservatorship battle. Others remain satisfied with the project, and find its feminine millennial identity angle refreshing. Will Lala Drona continue to explore millennial identity through painting, or will her journey into the void uncover something else? We'll keep you updated with Lala Drona's top stories here on Based on a Fact.
Written by Warren Deniels, Independent Journalist